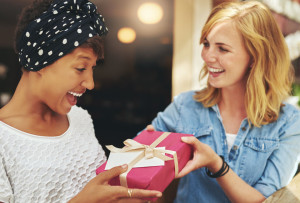 The holidays are fast approaching. Regardless of whether you're a new landlord or a seasoned one, a little token of appreciation can go a long way. Make your residents feel special by going out of your way to recognize them.
Getting in the holiday spirit is a win-win. Showing your appreciation encourages mediocre tenants to be better and rewards good behavior. Plus, it's tax-deductible if you spend under $25 per person in a given year.
Maybe you know you want to make the gesture but don't know the best way to go about it. Don't sweat it! Here are a few tried and true ideas:
Discount off a month's rent: Who wouldn't want more cash in their wallet? Depending on your budget, you might consider offering $25, $50 or $100 off their rent for January.
Gift basket: If you feel so inclined, you can put together your own. Maybe coffee, tea, hot chocolate, cookies and other seasonal favorites. Or you can save yourself the hassle and order one from an online retailer. Just make sure that your tenants are going to be home before sending anything perishable.
House cleaning: You might consider bringing in a professional maid service to clean the property. Who wouldn't love a clean/house apartment?
Gift cards: Gift cards can be a perfect one-size-fits-all gesture. Think Target, Starbucks, movie theaters and the local grocery store.
Flowers/Plants: Flora can brighten up any space — and it's sure to be a welcome gift. Think seasonal flowers or a hardy houseplant.
Home Repair/Tool Kit: Everyone needs a hammer or screwdriver now and then. You can put together a basic one for under $50.
Holiday party: This is probably the most common gift given by apartment buildings because it's a good way to encourage a sense of community. And who doesn't love free food and drink? If you have a large complex, the best time to host such a function is between 5-7 pm, in the lobby, on a weeknight. You'll catch the after-work crowd, and it's still early enough that families with young kids will be able to attend.
Whatever route you go, remember it's the thought that counts. Also, don't forget that a property manager can help boost tenant satisfaction year-round. It's a worthwhile investment. When you hire us, you get a full team of skilled professionals with the expertise to provide you with the highest level of service and the maximum return on your investment. Give us a call today! (703) 717-8509